Our Philosophy
In general everybody is a well-oiled functioning machine with all it needs.
Our bodies are amazing, and will adapt to keep us balanced and upright. We can find this means rolling our feet in, making one leg work as if it is shorter, curving our backs or even sticking our heads forward to make sure we are balanced. These adaptations require parts of our bodies to work differently than they were designed. This is when overuse or misuse of our muscles and joints may start to present as pain.
Like a gymnast running up to the springboard to launch into their routine on the gymnastic horse. If they strike the springboard badly, the routine happens awkwardly and injuries are more likely to occur. If they strike well and balanced, their routine will flow easily and elegantly.
Our Approach
You will find our approach is perhaps a little different from other podiatrists.
We assess your body alignment from the ground up, looking at all aspects of your posture. We take a holistic approach to podiatry and promote wellness, health and harmony starting with a stable foundation for your feet.
Our focus, is finding the key to balancing your body effortlessly. Through custom designed orthotics in your footwear, we effectively provide you with training wheels for the body.
Following many years of research, the focus in our orthotics is to provide the right direction for the heel rather than propping up the arch of the foot. We have found that this is not only improving foot posture and function for our clients, but it has a direct impact upon the rest of the body.
Find the key to balancing your body, and you may very well find the solution to eliminating foot, leg, body and back pain.
Podiatry Accreditation
Leading the way with podiatry accreditation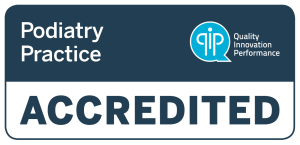 Jaclyn Christie Holistic Podiatry & Wellness Centre has been recognised for the quality and safety of their service with the award of accreditation by Quality Innovation Performance (QIP). Jaclyn Christie Holistic Podiatry & Wellness Centre is one of the first podiatry practices in Australia to be accredited by QIP against the National Safety and Quality Health Service (NSQHS) Standards applicable to the profession.
QIP is Australia's most comprehensive not-for-profit accreditation organisation, dedicated to delivering accreditation and support services to a diverse range of organisations including podiatry practices, optometry practices, physiotherapy practices, diagnostic imaging services, dental practices and a wide range of community services.
In an industry first, the Podiatry Practice Accreditation Program provides the opportunity for Australian podiatry practices to be recognised for complying with industry standards, prove their commitment to quality improvement, reduce clinical risk and streamline service processes through the achievement of accreditation.
Jaclyn Christie Holistic Podiatry & Wellness Centre volunteered to participate in the pilot program, inputting into the refinement of policies, evidence requirements and procedures to ensure the Podiatry Practice Accreditation Program was reflective of the profession prior to its launch.
"Having undertaken the pilot program, the reward of accreditation is a major achievement and a clear demonstration that Jaclyn Christie Holistic Podiatry & Wellness Centre is committed to providing their clients with access to high quality health services. Jaclyn Christie Holistic Podiatry & Wellness Centre can be proud of their dedication and teamwork which has led to their recognition of being one of the first Australian Podiatry Practices to be accredited against the NSQHS Standards" Mr Gary Smith, Chair of QIP, said today.
"Striving to continually improve how you support your patients to get the best health outcomes should be commended, and QIP congratulates Jaclyn Christie Holistic Podiatry & Wellness Centre on reaching this benchmark", he said.
To achieve an endorsement of accreditation, Jaclyn Christie Holistic Podiatry & Wellness Centre has demonstrated that they meet all applicable requirements of the NSQHS Standards.
Jaclyn Christie said that accreditation was attained through a commitment to improving services and patient safety outcomes and communication amongst staff members.
"Staff in our practices played a valuable role in ensuring we met the Standards. The recognition of working in an accredited practice gives our dedicated staff a feeling of accomplishment and pride. Jaclyn Christie Holistic Podiatry & Wellness Centre are proud to be one of the first to lead the profession with accreditation and proud to display the QIP accredited symbol at our practice."